Qwined Technical Editor Release 2014
Modern Editing Experience for Modern Desktop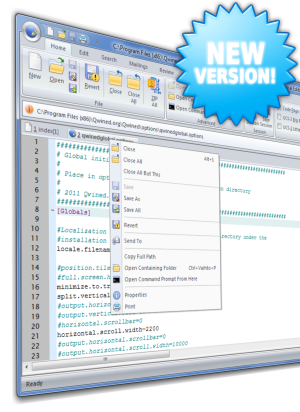 The award-winning Qwined Technical Editor is one of the most sophisticated free editing tools for Windows. In addition to ordinary HTML, XML, PHP, C/C++/C#, SQL and scripting languages, it supports nearly one hundred other file formats out-of-the box. More than any other editor today.
Microsoft Office style user interface is familiar and easy to use.
Aero Wizard compatible installation system.
Web Updates to keep your system up-to-date.
SQL Command Line to run scripts against all major database systems, including Microsoft SQL Azure, Microsoft SQL Server, Oracle, DB/2 and MySQL.
For Engineers, Technicians, Administrators
As it supports many description languages, hardware and embedded systems design and most of the common configuration file formats, it is a favorite editor for many engineers, technicians, administrators and IT Support professionals.
For Programmers
For software developers Qwined has a built-in and customizable word and symbol Autocompletion and Calltip Support for various programming environments.
Professional Functionality
Qwined Technical Editor has all the features you would expect from a modern editor, such as multi-tabbed views, conversions to different file formats (Mac, UNIX, Windows), powerful search and replace, regular expressions, block editing, full drag and drop, spell checking, email integration, built-in ZIP support, WYSIWYG preview, code folding. save-as in multiple formats (including PDF and RTF), syntax coloring, sessions, template support and much more.
Qwined Technical Editor is highly configurable and integrates with Windows Explorer menu system. It can easily be extended by third parties. Qwined has dynamic multi-language support. This means that the user interface language can be changed 'on-the-fly'. Qwined can be localized virtually in any language. It is already localized for nearly thirty languages covering all the continents.
Qwined Technical Editor is distributed worldwide by many of the major download sites. Year after year it is awarded by many of the global distributors.
Please take a look at the Key Features and Feature List to learn more.
Microsoft Windows 8

Qwined Technical Editor is officially supporting Microsoft Windows 8 and Windows 8.1 (Intel versions).
Qwined Technical Editor is developed with Visual Studio 2013 and it is also fully compliant with Windows Server 2012 R2.
Microsoft Windows Azure

Qwined SQL command line is officially logo tested to support Microsoft SQL Azure together with many other commercial databases.
More Information
Related Pages
Support Pages
Public Policies
Legal Notices